Our ministry partners in Romania are the true heroes of Elder Orphan Care! Their 24/7 labors of love are making a present as well as eternal difference in the lives of hundreds of older adults who find themselves as elder orphans.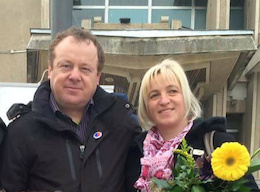 Viorel and Florica Pasca currently care for over 400 people who are elderly or frail who would otherwise be homeless. In 2006, after watching a news story that revealed two homeless elders had frozen to death in a nearby city, Viorel said to his wife, "It's wrong for us to have an empty room when people are dying on the streets." Within 48 hours they had invited two older women who had no homes to live in their spare room.  That decision became the impetus for the birth of Elder Orphan Care! Since then the Pascas have provided help and hope for nearly 3000 older adults.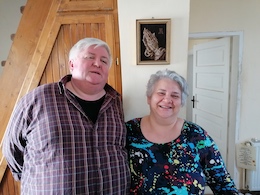 Mircea and Dana Badea currently care for over 100 people who are elderly or frail. When our EOC staff first met them, it was Mircea's statement in his limited English that captured our hearts, "I'm a pastor, but now I find myself collecting old people."  Mircea and Dana often talk about the "Seven-Day Church," something they live out as they offer around-the-clock love for the elder orphans in their care. We are currently in the process of helping the Badeas equip a much-needed commercial kitchen.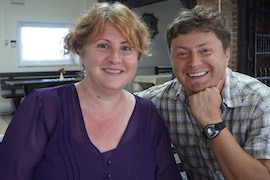 Zoli and Ema Somogyi are our "boots on the ground" in Romania. Beyond providing transportation and translation services when our teams are in Romania, the Somogyis serve year round in support of EOC's programs and projects. We are grateful for their labors of love, all of which they do, along with their son, Brian, in addition to running their own work, Pro Familia Foundation. 
Want to know more about these amazing couples? Read their stories in the "Hello, Hope!" series of books written by EOC's Director, Kim Jackson. Contact us at info@elderorphancare.com to learn how to receive your copies, or order them on Amazon 
---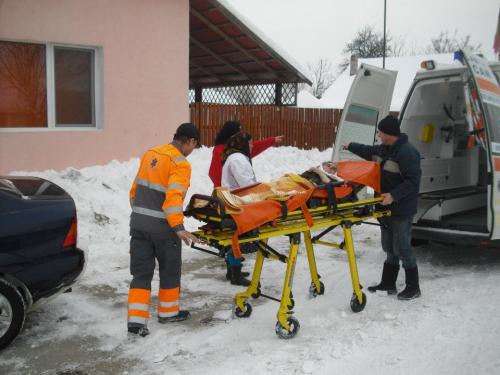 Viorel and Florica receive people who are elderly and who are homeless or living in tragic situations from all over Romania.
They often arrive in an ambulance, sent from hospitals where they were released with no where to go.
We thank God for our partnership with the Pascas who so passionately and joyfully care for hundreds of people who are elder orphans by providing shelter, nutrition, medical assistance and best of all, the hope found only in Jesus!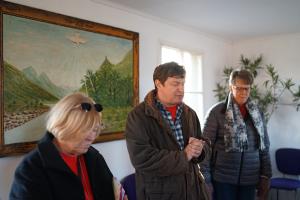 Our team members from the U.S. prepare their testimonies to share with our friends in Romania.
These encouraging times would not be possible without Zoli's excellent translation skills.
We thank God for Zoli, Ema, Brian, Ela and for others who help in this way and many more!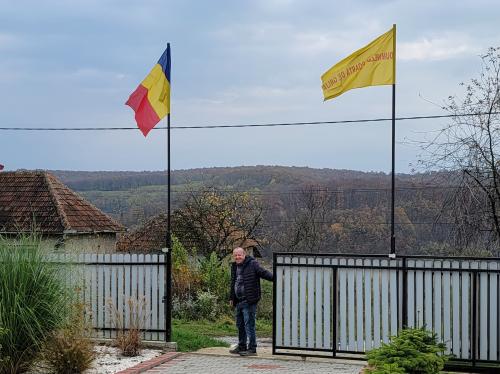 Viorel and Florica Pasca's faith causes them to believe that God will provide, and they know that God often provides through generous folks like you! 
Flags fly near each of their twenty elder care homes: One is the Romanian flag and the other is a bright yellow flag that declares (translated) God will provide.
We are grateful for everyone who chooses to invest in the work of our partners in Romania. Your reward is surely great in heaven!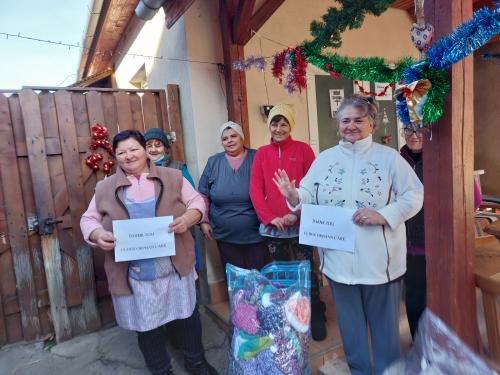 Our partners in Romania express their gratitude in a multitude of ways: hugs, a kiss on the cheek, an enthusiastic "Multumesc!" or in this case, by holding up signs in a photo they sent when we could not be in Romania with them.
When Dana and her helpers received bag after bag of handmade winter hats and scarves as well as many other gifts, they took time show their gratitude with signs, and smiles!
Our ministry partners are wonderful examples of Psalm 28:7: "The Lord is my strength and my shield; in him my heart trusts, and I am helped; my heart exults, and with my song I give thanks to him."