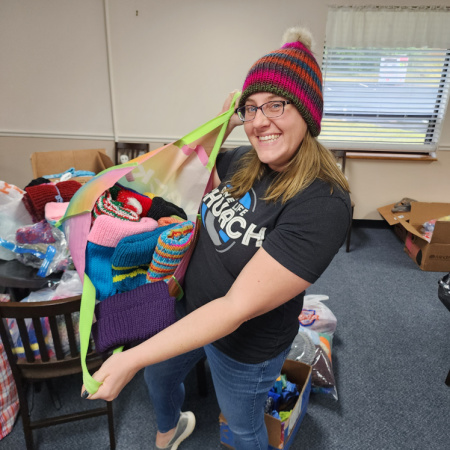 Thanks to EOC's amazing volunteers and staff, thirteen large containers of blessings are on their way to Romania!
Thanks to dozens and dozens of creative and generous women in multiple states, they had hundreds of handmade items to pack!
Thank God for the wonderful people who made hundreds of handmade Christmas Stockings of Joy, handmade winter hats, scarves and gloves; Christmas cards in Romanian and "Grandpa and Grandma" dolls!
We're also grateful for our donors who helped provide financially for other items we were able to ship including hundreds of squeeze balls (for therapy use); four-color ink pens and mini plush animals.
All these items will be included in over 600 Christmas Stockings of Joy which will be hand delivered by our Romanian ministry partners and volunteers after they continue filling the stocking with items purchased in Romania: warm socks; water bottles, fruit, candy, notebook, reading material, and other practical, delicious and fun gifts!
Big thanks to volunteers Kerri Smilie, Christy Spaugh, Valerie Polk and to EOC staff members Janna Syester, Tammy Blackburn and Kim Jackson for their labors of love and to Providence Presbyterian Church of Concord, North Carolina for letting us take over their fellowship hall for two days!